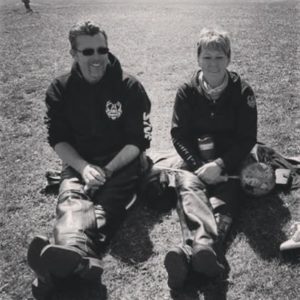 Have you ever got that feeling when you meet certain people, you were meant to cross each others path for a reason? Well this is the feeling I had gotten when I was introduced to Wayne and Marie Swinimer from The Rider's Group about a year ago, so let me tell you why.
I was put in contact with Wayne and Marie last summer when I was holding a charitable event for the Bethesda House Women's shelter out of Bowmanville to hopefully help me advertise and raise funds through The Rider's Group and I was immediately contacted back. They posted my event and right away I started receiving donations which helped make the event a success and I honestly still can't thank them enough for all their help.
At the start of this season I attended a few of there Tuesday Rider Bike Night events out at Blackstock Motorsports and I couldn't believe how much they had grown in the year since they had started the group. Not only had they grown, but the participation and representation they were receiving from all walks of motorcycle enthusiasts was amazing. It was great seeing everyone together. The one other thing that stood out in my mind is that Wayne and Marie were still continuing to help raise funds for charitable organizations, not only bethesdahouse.ca but also  projecttraumasupport.com and sponsoring a youths under 8 soccer team with the Scugog Soccer Association.
To me as well as to many others Wayne and Marie Swinimer are great people and that's why I asked to sit down with them one on one to do an interview so the world can see how much I admire them for all there efforts.
When I contacted them a couple of weeks ago, again, they were quick to reply, and meet. Our half hour interview turned into 3 hours and even though they are both super busy, they didn't seem to mind at all. We discussed everything from the hurdles they jump over daily,  the charitable causes we support and the ongoing stigma within the motorcycle community. I also got to know them personally as well, and what lovely people they are.
Both East Coasters, Wayne and Marie have been married for 25 happy years and you can see why. Wayne is the planner and Marie is the one that firms up the details. Together they are Ying and Yang, and they perfectly align and compliment each other.
Wayne just started riding a couple years back and that is how they started The Riders Group by just an idea and than another and than another, until it expanded and skyrocketed into what it is today. Marie rides as well now, which she never thought would be a possibility because her body wouldn't cooperate on two wheels, she never gave up and now rides a Spyder. She's a firecracker BTW, got to love them.
They have always been very supportive and charitable people, no matter what community they have lived in and their hearts are huge. No matter what hurdles they come across, no matter how many times they must reach in their own pocket, they never give up. To them it will always be about the bigger picture of helping others and bringing everyone together stigma free.
Riders Group Mission Statement states   "Our group represents the gathering of good people in the motorcycle community, near and far. Our goal is to create a brotherhood and sisterhood for recreational riding that promotes safety, unity and inclusiveness for all our members, families and friends, sharing camaraderie and our passion for riding while raising awareness and providing support to our local charities and community" and with that being said I believe they are accomplishing this.
Please join me by recognizing and thanking Wayne and Marie for what they have created and all the people that stand behind and help support them at Riders Group and their cause. Together they are making the difference!!
Also a big thank you and recognition to the Riders Group administration, who all volunteer their time, Isaiah Hrynkiw, Dave Allan, Karen Harding and John Howley. Thanks for helping make this vision a reality