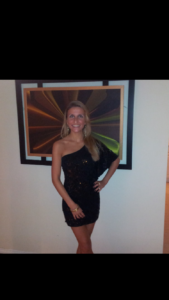 People ask me, why did I chose specifically "Eating Disorders" out of all things in medicine why that? I will tell you why, and how what I went through and worked on, gave me the successful story and career it has given me today.
With many, issues are so deep rooted. Many believe and feel it's just a superficial surface problem, but when in fact, problems stem from the ground up. Some of us, are able to have the strength and ability to not allow negative moments, words, actions etc. to be held within, and know how to let go, but then there unfortunately are people like myself carry with us more than we should allow, and we end up causing self pain and more harm then good.
I grew up, with 4 siblings and 2 parents. We were a family of much love and great strength. Sadly, life is full of changes. And I chose to take those changes and blame myself and see myself as a total different human being.
At the age of 15, I felt I had no control over my life. So what can we control? Our eating. It slowly began with working out a little more. Dieting pills. Making excuses why I wasn't hungry. To the point, I would fake headaches so I wouldn't even have to sit at the dinner table. I chose to twist my very own mind and have a persona of someone I really wasn't. Our mind is a extremely powerful weapon.
This is only the beginning for the readers and followers out there to know that, the writings I will continue to post will slowly allow you to learn more of my journey and how self love is utmost important. And only you are in control of every move you make, NOBODY ELSE….Change is possible. Self love is even more possible. Anything you put your mind to whole heartedly, can be conquered.
Remember that.
Until the next post, ONE DAY AT A TIME. DO NOT GET AHEAD OF YOURSELF. NEVER GIVE UP.
Words and insight from. – Dr. Jade Elieff ( GP- specialist in Clinical Nutrition & ED )